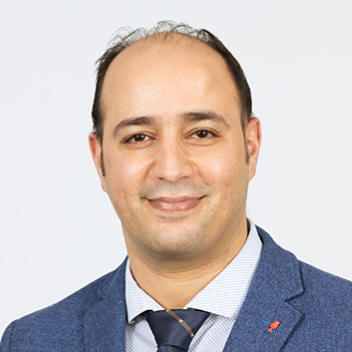 Position(s)
Contact Info
Telephone: 613-549-6666 ext. 3547
Fax: 613-548-1368
---
Dr. Mahmoud Alsalehi is a full-time Assistant Professor of Pediatrics and Pediatric Cardiologist at Queen's university. He joined the department in January 2022. His work includes follow up of Pediatric patients with congenital heart disease, acquired heart disease, heart failure or arrhythmia. He also runs a Fetal Cardiology Clinic for prenatal diagnosis of congenital heart disease by fetal echocardiography, in addition to delivery planning and family counselling.
Dr. Alsalehi is a graduate of Al-Quds University in Jerusalem in 2007. He completed his residency training in General Pediatrics in Al-Naser Pediatric Hospital in Gaza, Palestine. He subsequently completed his Pediatric Cardiology fellowship training in 2019 at Hospital for Sick Children, University of Toronto.
Upon completion of his fellowship, Dr. Alsalehi moved to China where he worked as a Pediatric cardiologist at TEDA International Cardiovascular Hospital (TICH) in Tianjin. His work was a part of the SickKids International (SKI) collaborative. Dr. Alsalehi was instrumental in supporting the project and teams to sustain positive change and improve the clinical outcomes produced through the collaboration between SickKids and TICH.
Dr. Alsalehi is very interested in medical education. He worked as a clinical coordinator of the pediatric training course in the Faculty of Medicine in Gaza for two years. Being a part of SickKids-TICH collaborative between 2019 and 2021, He also practiced different models of clinical education and guided many teaching sessions in Pediatric Cardiology medicine.
Dr Alsalehi published on coronary anomalies in children in 2019. His research interests include quality improvement of Pediatric Cardiology service in low resource settings. In his off hours, he enjoys playing soccer, travelling and reading.